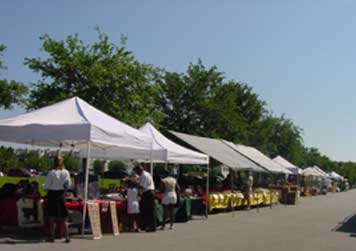 Special events include:
Food Truck Friday (2nd friday of the month)
Founders Day in November
Falling "leaves" in October
Nightly snowfall in December (see photo below)
Pie Festival
Exotic Car Festival
Arts and Crafts festivals
Ongoing events include seasonal carriage rides (see photo below right) and a Sunday morning Farmer's Market (shown at left). For the latest information on events, click here for the "events" page of the official Celebration, Florida, website, and click here for the public access area of the Front Porch website. You can also call the Events Hotline at 1-407-566-2200 for the most up-to-date information.